the 2016 caucus
The legislative process behind the United States Senate, often nicknamed "the world's greatest deliberative body," is driven by the relationships between senators and the goals they share.
A level of intrigue has been cast over the 114th Congress due to the emergence of a new and increasingly outspoken caucus: the five-sitting senators who have declared their candidacy to be President of the United States.
They are, in order of declaration of candidacy: Ted Cruz, Republican of Texas; Rand Paul, Republican of Kentucky; Marco Rubio, Republican of Florida; Bernie Sanders, Independent of Vermont; and Lindsey Graham, Republican of South Carolina.
The five men must continue to perform their legislative obligations while meeting the heavy demands of a national political campaign. The number of reporters that chase them through Capitol hallways grows in size. Their votes are more heavily scrutinized for the implications they may have on their presidential aspirations. And the candidates increasingly speak with a voice intended for a national audience.
With outright campaigning explicitly forbidden within the Capitol, these photos seek to convey how the five men carry out their duties all the while with an eye on the White House.
This essay is ongoing.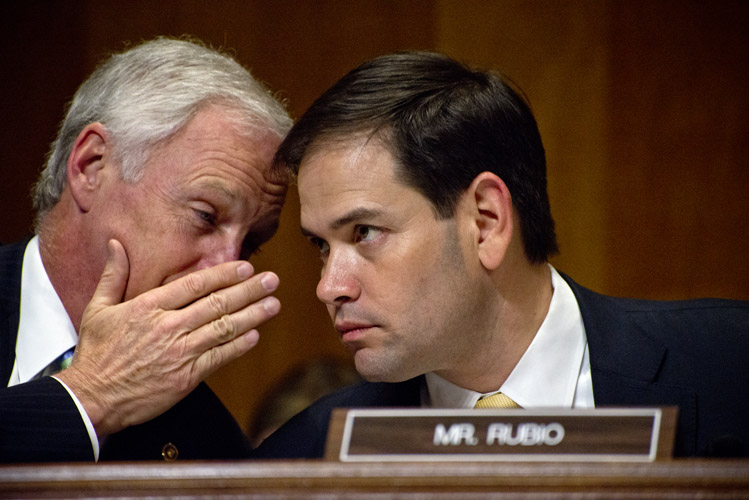 Marco Rubio listens as Ron Johnson of Wisconsin whispers to him during a markup session of the Senate Foreign Relations Committee. Only days earlier, Rubio had officially declared his candidacy to seek the Republican nomination at an event in Miami. But he returned to Washington for the decisive committee vote on a bill that would allow Congress to vote on the nuclear deal being negotiated with Iran.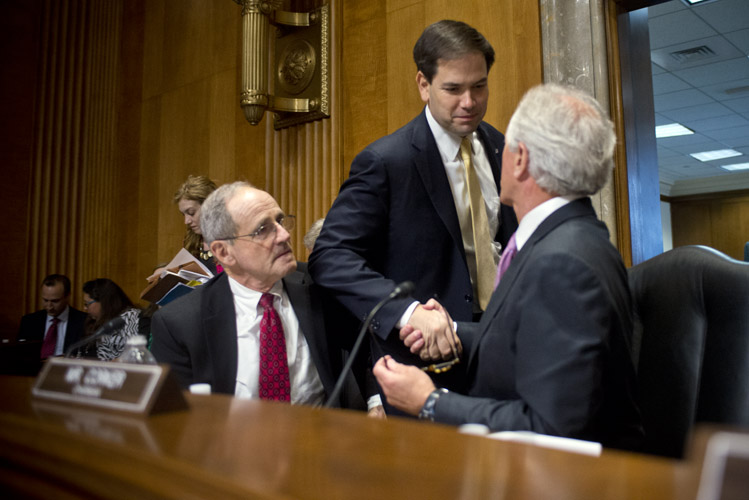 Rubio thanks Chairman Bob Corker following the unanimous vote in support of the legislation Corker negotiated with his Democratic counterparts. Rubio introduced an amendment that would require Iran to recognize the state of Israel, a maneuver that would likely have lost the legislation Democratic votes. Understanding that a bill with unanimous support would be difficult for Obama to veto, Rubio compromised with Corker and accepted the failure of the amendment in return for the chance to have a public vote on it.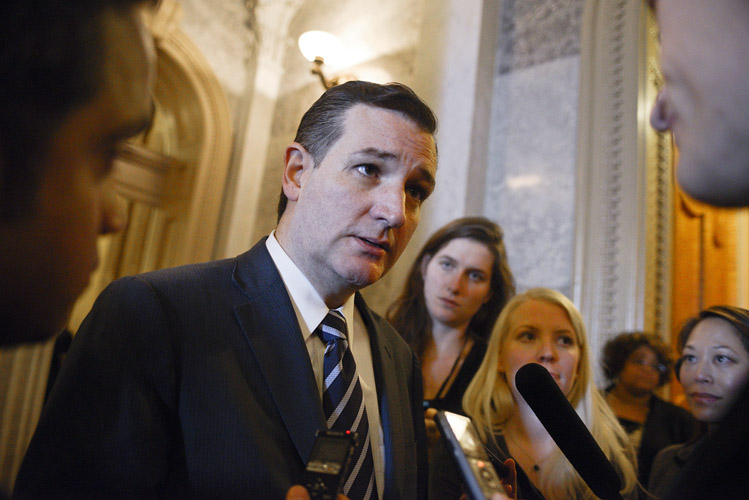 Ted Cruz, here speaking with reporters in January, was the first prominent Republican to declare his intention to seek the party's presidential nomination. Many observers, however, had been assuming for months that Cruz would seek the presidency based on his strong support amongst Tea Party-affiliated voters. Despite his lack of seniority, Cruz often made waves and was able to exert an influence that was unusual for a freshman senator.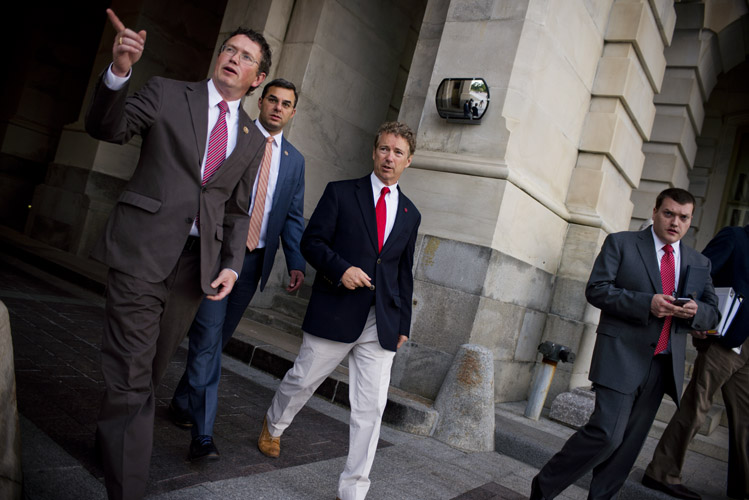 Rand Paul departs from the Capitol following a rare and chaotic Sunday session in which Paul's tactics caused a likely-temporary shutdown of the government mass surveillance program he voraciously opposed. Supporters wearing campaign apparel sat in the Senate galleries as he spoke and his furious condemnation of the domestic spy program garnered him plaudits on social media. He is accompanied by Thomas Massie of Kentucky and Justin Amash of Michigan, two Liberterian-minded members of the House.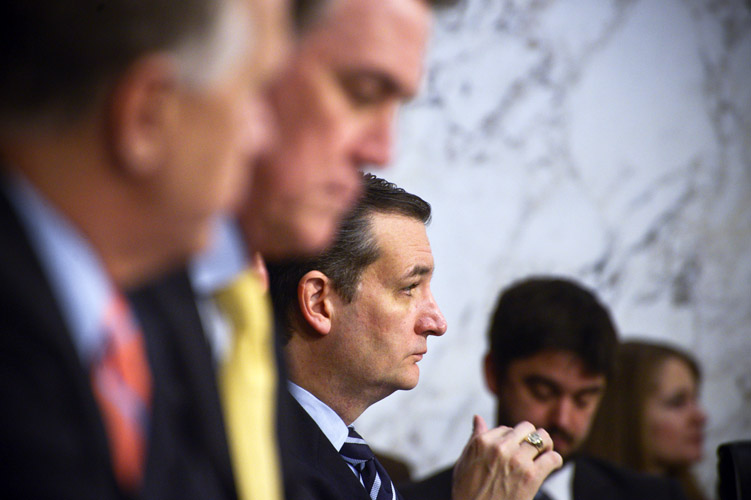 Ted Cruz attends the Senate Judiciary Committee confirmation hearings on Loretta Lynch, President Obama's Attorney General nominee. When Lynch expressed her belief that the President's executive immigration orders were legal, Cruz emerged as one of the most voracious opponents of her nomination. He declared his intention to torpedo her confirmation over the issue. While many other Republicans remained uncommitted to Lynch for weeks, she was eventually confirmed 56-43.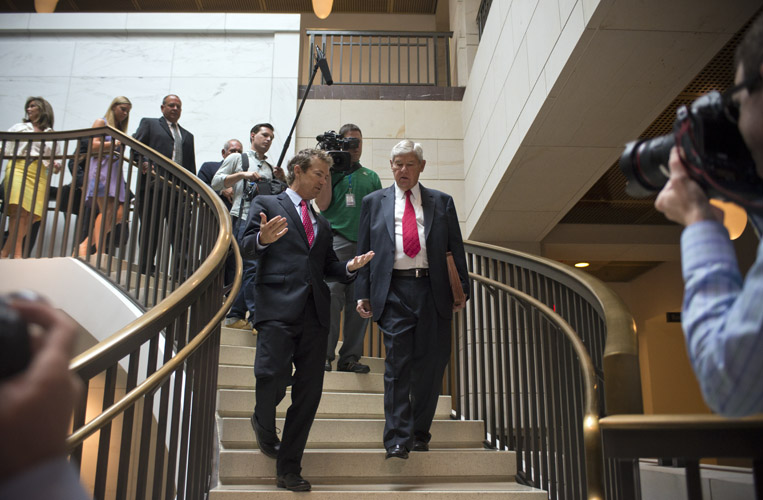 A heavy media presence follows Rand Paul as he speaks with former Florida Democratic senator Bob Graham. Both men were on their way to a press conference where Paul would co-introduce legislation that called on the White House to release the remaining classified and redacted 28-pages of the 9/11 Commission Report that many believe reveals the role Saudi Arabia played in financing the terrorist attacks.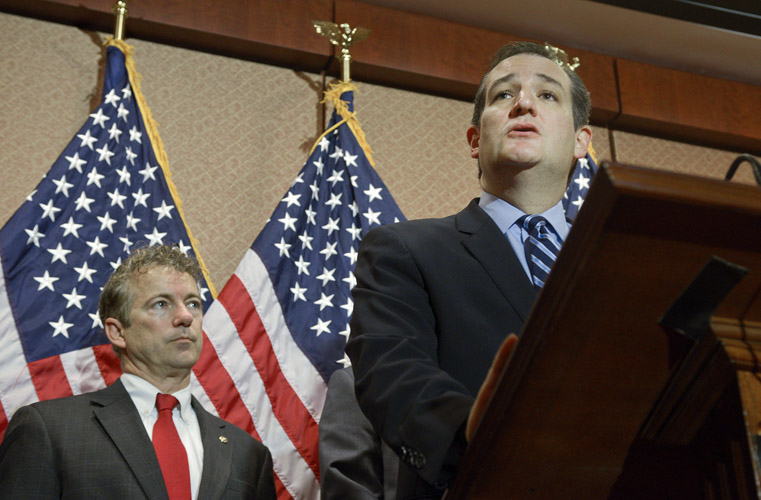 In the lead-up to election season, one aspect of life in the Capitol for legislators is that sometimes they may have to work together with their opponents. Seeking to build a bipartisan coalition behind her military justice reform bill, Democratic Sen. Kirsten Gillibrand enlisted the support of Paul and Cruz. They both attend a press conference in support of the bill and call on other senators to pass it.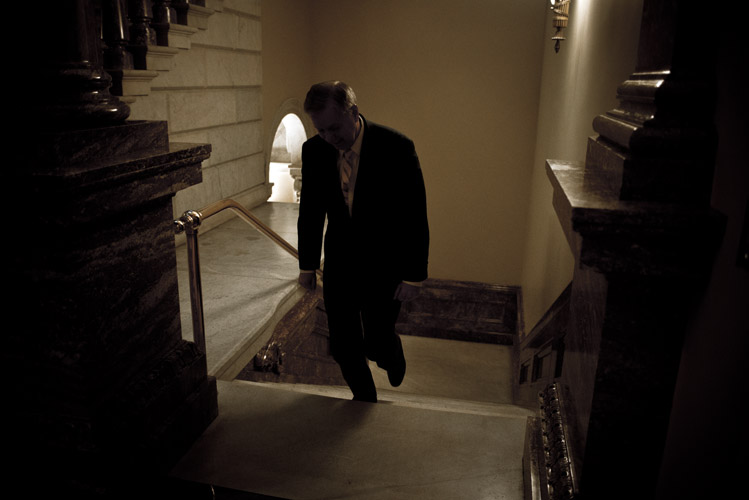 Lindsey Graham walks up the stairs and towards the Senate for an early morning vote on funding for the Homeland Security Department. Graham, one of the most prominent hawks in the Senate, had been dropping hints for months that he would launch a national campaign. Graham based his candidacy on his foreign policy credentials in a move many perceived as a stark contrast to Rand Paul's libertarian beliefs.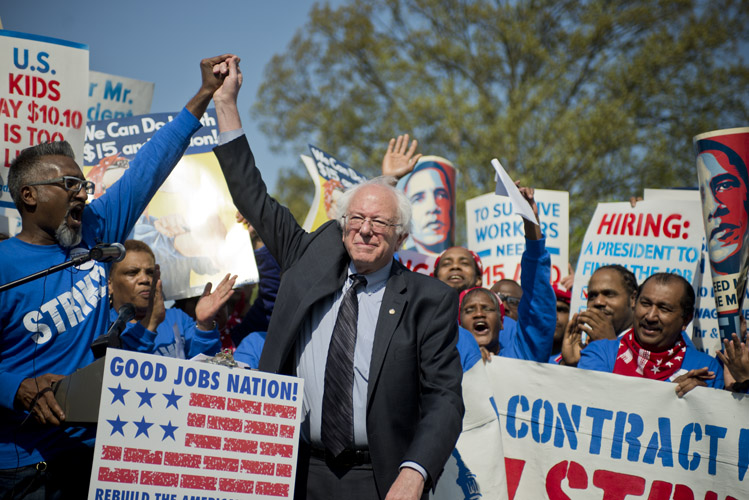 Bernie Sanders is cheered during a rally just outside the Capitol after speaking in support for an increase in the minimum wage to $15-dollars-an-hour. After Sanders announced his campaign, many of the liberal Democrats who gravitated to Elizabeth Warren and unsatisfied with front-runner Hillary Clinton turned their attention towards the self-identified socialist from Vermont.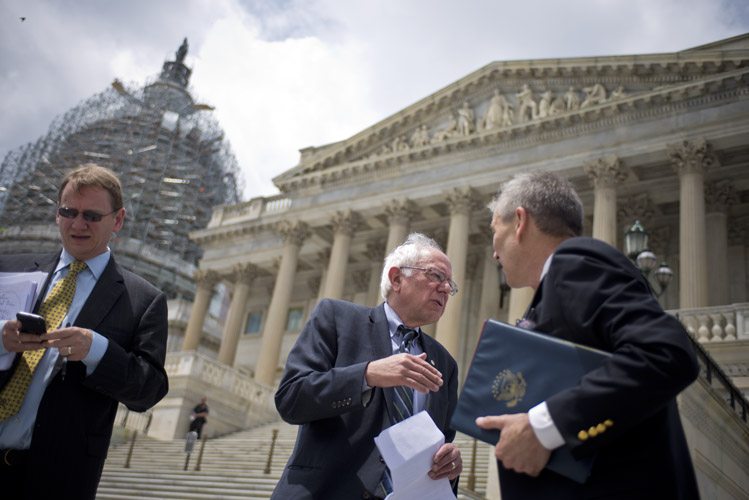 Sanders speaks with an aide following an outdoor address where he denounced legislation that would allow for cuts to pension plan benefits in order to shore up the plan's finances. Sanders was well-received but the loud cheers of his supporters disturbed a nearby prayer circle for the Charleston shooting victims; many reporters called the event an "unforced error." Sanders has been holding more and more rallies outdoors to avoid breaking Senate rules on overt campaigning.